Yearbook Support at your fingertips
Need Yearbook Help? We are always here when you need us!
Need help design a page or your entire yearbook? Sunset Yearbooks works only with professional graphic designers to help you create your ideal yearbook.
• Chat one-on-one with our professional design team
• We will work with you to design your cover, edit photos, create clip-art etc.
• Make sure your book looks just the way you want it

We support our customers through both our support number, as well as online conferencing where we can view your computer screen and help walk you through any trouble you may encounter.
• Having trouble day or evening? Chat live with one of our tech team both online and on the phone
• We will help you until all your technical issues are solved

Sunset Yearbooks provides our yearbook moderators with industry leading online yearbook software and design tools.
• Create pages at your own schedule – Web based software allows you to install in up to 30 computers. So whether you are at school or at home, you always have access to your project.
• Image Upload – By uploading your images onto our online gallery, any user will have access to using only the images you chose to upload.
• Attend our online seminars – Get great tips on advances yearbook features, yearbook designs, and more
• Submit your files online – Upload your pages instantly and easily when they are complete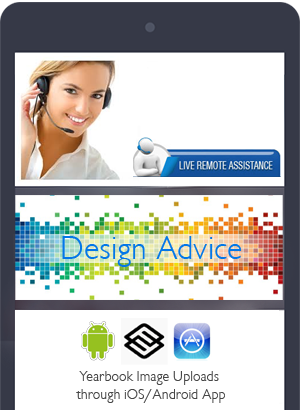 Why Sunset Yearbooks?
At Sunset Yearbooks, publishing yearbooks is our passion. The biggest complaint about traditional yearbooks is "the yearbook costs too much!" We've listened loud and clear and built our yearbook pricing around today's economy. We began "Operation Every Child can afford a yearbook" by investing in new and modern technology that helps keep yearbook cost low.
Bring your school memories to life with our beautiful yearbooks. Whether you're capturing the school's biggest events or all the great times in between, it's never been easier to create a gorgeous, unique school yearbooks with Sunset Yearbooks